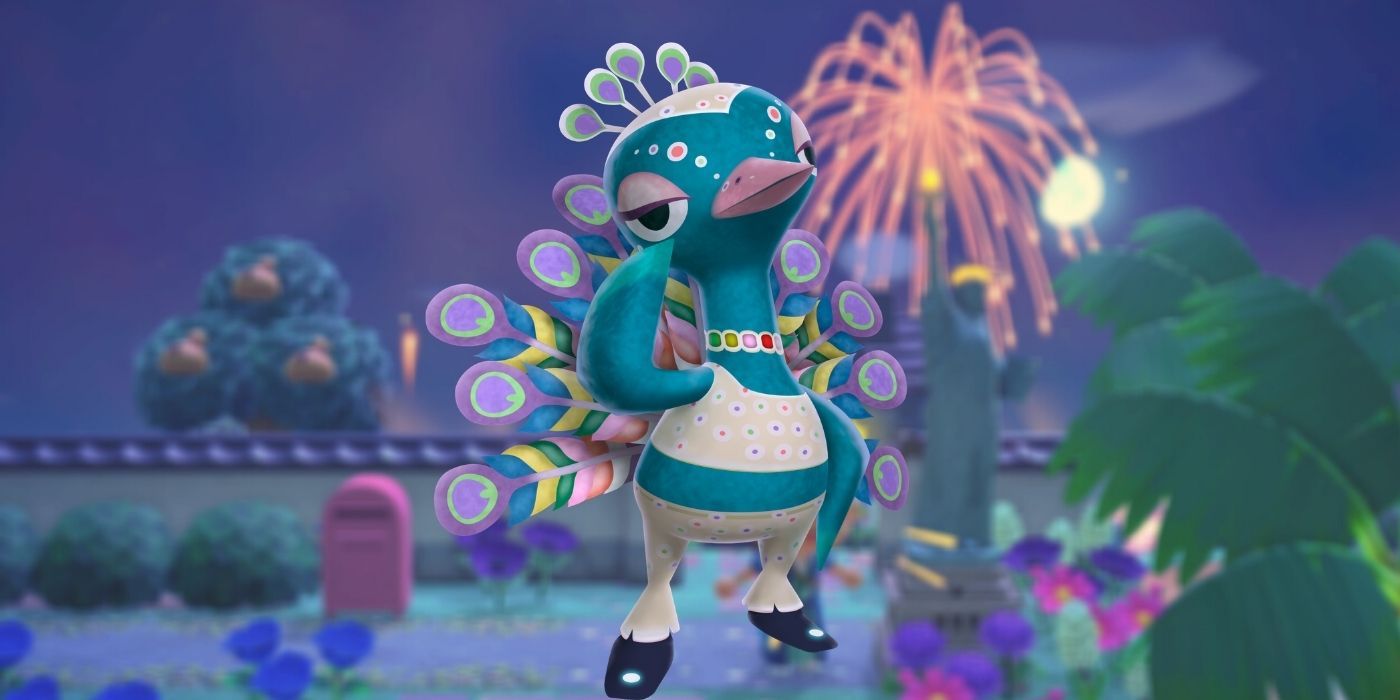 The latest winter update trailer for Animal Crossing: New Horizons brought many unexpected surprises in addition to the Turkey Day and Toy Day festivities coming later this year, including a teaser for a new Animal Crossing NPC: Pavé. Here's everything to know about New Horizons' recently announced peacock character.
Pavé originally appeared in Animal Crossing: City Folk and later in both Animal Crossing: New Leaf and Animal Crossing: Pocket Camp. His name likely comes from pavão, which is Portuguese for peacock. Pavé is associated with Animal Crossing's Festivale event. Pavé's flamboyant style is appropriate for Festivale, which is an all-day festival of color, costumes, and craziness. It's based off of Mardi Gras in the United States and Carnival, the festive circus-esque season associated with parades, street parties, and other entertainments celebrated worldwide.
Related: Animal Crossing Holiday Event Times & All New Free Content Explained
Pavé's role in previous Animal Crossing games offers a hint as to what he'll do in New Horizons. Festivale occurs in either February or March, depending on the year. The current game will likely follow suit since the winter update trailer for New Horizons teased this new Animal Crossing NPC coming in late January 2021.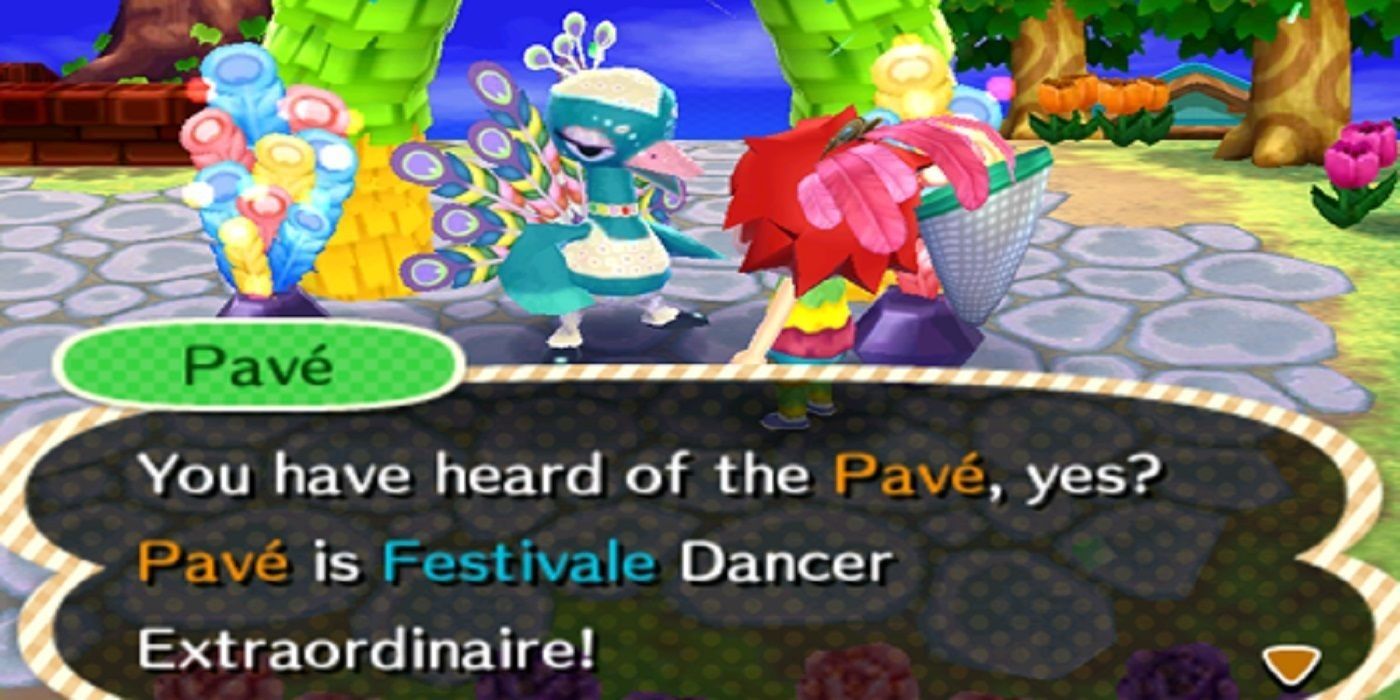 Previously, Pavé hosted the Festivale event in the Animal Crossing plaza. Players would have to gather items like candy in City Folk and feathers in New Leaf per Pavé's request. After obtaining the desired items, Pavé would reward the player with items from the Pavé series, which included elaborate gold and turquoise-themed furniture. As with other holidays, Animal Crossing villagers would also join in the festivities, even challenging the player to certain games like Charades or Rock, Paper, Scissors.
In New Leaf, villagers would also wear feathered headdresses to celebrate the lively event, and were often seen singing and dancing in commemoration. Players could catch different colored feathers with a net, similar to how they catch cherry blossoms and snow flakes in New Horizons. This was a bit challenging in New Leaf, as confetti would also be floating around in addition to the feathers, making it more difficult to catch the correct colors. Obtaining the correct number of a specific color feather requested by Pavé would result in the peacock performing a dance. The dance would be a special one if the player was able to catch an elusive rainbow feather. Pavé would then give the player a furniture item upon completing these tasks.
In addition to Rock, Paper, Scissors and Charades, the villagers would also challenge the player to "Made Ya Look," in which the player has three tries to turn their heads the same direction as the villager. Winning these games would result in the Animal Crossing villager giving the player a feather in New Leaf. Conversely, losing a game would prompt the player to hand over a feather to the villager. The card game approach that New Horizons' campsite villagers use prior to being invited to one's island may be used in lieu of these games.
Candy may also be a part of Festivale, as it was in City Folk. If New Horizons follows suit, then candy from the Halloween event could be given to Pavé as well. Previously, Pavé would describe a feeling or mentality evoked from the type of candy received, and then give the player another exclusive Animal Crossing: New Horizons item. It's still unclear if candy or feathers or both will be requested by Pavé in Animal Crossing: New Horizons, or even a new item altogether. What is sure is that an extravagant new event awaits players early next year.
Next: Does Animal Crossing: New Horizons Have A Santa Claus?